Pei-You Chang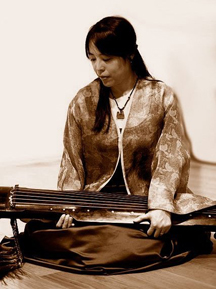 Photographer: Wang Weijun

Peiyou Chang was born in Taipei, Taiwan. At age 3 her father sat her in front of a piano and there began her musical education. At age 8 she studied the Guzheng. However she gave up both piano and Guzheng while under the pressure of entering college. At age 30, the 3rd year after she moved to New York, she revived her musical life with the love of Guqin music. She has been playing and studying the Guqin since 2000, and was taught initially by Mr. Yuan Jung-Ping. Peiyou's Guqin style is most influenced by her favorite qin Master Wu Zhao-Ji (1908-1997) from Suzho, China.

Peiyou has participated in numerous Guqin performances and activities in New York, Japan, Taiwan and China, and has given lectures about the Guqin at Kean University in New Jersey, the China Institute in NYC, and local communities in upstate New York. Peiyou is devoted to Guqin music reconstruction, composition, promotion and performance both solo and ensemble.